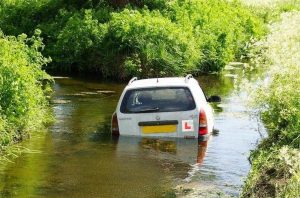 Learner drivers. Cunts. Every fucking single one.
And now they can drive on motorways….
I used to like motorway driving, when there were no learners on it.
Now I cannot even be a passenger on the motorway without having my piss boil at some idiot learner thinking their smart car is nine feet wide, randomly indicating (they would indicate 'up' if it was possible) or hovering around in the fast lane at 55 thinking that they are stuck "because no-one will let them out".
They would have us believe that the test has become harder in recent years, but I don't believe a fucking word of it. Stupidity abounds, please consider:
It would appear no-one knows what right of way is anymore.
It would appear no-one knows how a roundabout works anymore.
It would appear no-one knows what gears are for anymore.
Apparently reversing out around a corner onto a main road into oncoming traffic is ok.
Apparently 3 point turns in the centre lane at traffic lights is ok.
Many people consider the function of chair controls an opportunity to ape the late steven hawking.
It costs a million quid to pass your test now.
It costs a million quid to insure your car now.
Oh hold on, of course, they'll be accompanied by an instructor…
Well that's alright then, isn't it.
Now we can all sleep easy at the wheel.
For fucks' sake, are we talking about the elderly feller catching 40 winks next to the learner whilst using the spare pedals as a footrest, or are we talking about the instructor who's financially going places impersonating dom jolly on his fucking mobile phone? Maybe it's the feminatzi one who's gonna show how to reverse park.
Get fucked the lot of you, and your examiners who perpetrate this nonsense by allowing people to sit their tests 20 times if necessary.
Call me unfair, but if you can't get it after a couple of goes then I don't think you should be risking my family's life by fluking a pass at attempt 23.
I personally think that your first lesson should start with a slideshow of mangled bodies at car accidents followed by a tortuous hospital visit to those that survive said crashes (whilst they are still in ICU) followed by a harrowing visit to the bereaved.
Following that if you demonstrate at least a partial understanding of the inertia involved with 1 tonne of metal multiplied by 50 mph then you may begin.
Maybe I've got it all wrong and this is just the british answer to the van of peace.
Fucking simians.
Nominated by Cuntflap