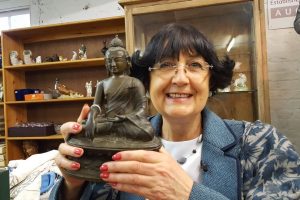 I have just had the misfortune to watch Bargain Hunt as my other half gives me no choice if I happen to be in.
I feel I just have to give Anita Manning a cunting of massive propoprtions. This woman almost makes Nicola Sturgeon seem likeable (Ok, gone a bit far there, but you get the jist). It may just be me, but she irritates the fuck out of me. Her fucking died black hair makes her look like a walking Pagoda and her exaggerated Scottish accent makes me want to put my foot through the TV. She fits the BBC mold perfectly. No talent whatsoever.
I always thought Tim Wonnacott was a cunt, but now I feel I must apologise to him as he has been totally out cunted.
Sorry Tim!
Nominated by Roge