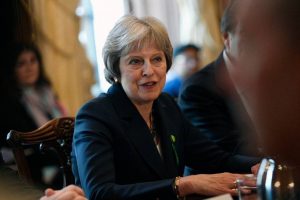 The following is an EMERGENCY CUNTING request on behalf of the Prime Minister: Theresa May.
Following the dubiously "lawful" imprisonment of Tommy Robinson on the ridiculous charge of "Breach of the Peace" (or as I like to call it the "Protection of Peaceful Feelings"), the blanket ban on publicity, the refusal of the entire establishment to even acknowledge anything amiss (when 10's of 1,000's marched on Westminster in protest – again completely ignored by both the establishment and press apart from covering a couple of pissed up twats doing the cause no good whatsoever), and finally Robinson being moved to a high security prison in Leicester Arabia with a 70% "peaceful" population, in the main wing, for his easy non-"peaceful" (obviously) related dispatch, I am at a loss as to how badly this country has fallen and specifically a cunting for our ineffectual Prime Minister.
All she said was "strong and stable".
And all we've gotten is weak and rickety!
Given all the above, this has to be the final straw from Appeaser May!
Absolute disgrace does not even come close! Hold your head in fucking shame you cunt!
Nominated by Rebel without a Cunt!