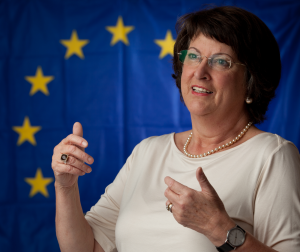 Catherine Bearder is a (il)Liberal (un)Democrat(ic) CUNT.
I've just watched this treasonous cunt on some channel 4 shite, licking Guy Verhovstadt's bum hole and telling him to make negotiations as difficult and as uncompromising as possible to punish the UK and make us change our minds about leaving.
Apparently we'll be "knocking on the door" again within 10 years, by which time the EU will be reformed.
LISTEN CUNT… the EU will NEVER reform and we WILL NOT be "knocking on their door". Knocking on their heads maybe, but not their door.
The cunt gleefully says that she's very powerful and is proud that she can use her power to make things happen.
Catherine … sucking up to people is NOT power. It's weakness.
Turning against your own country in favour of a foreign empire is NOT clever, brave or democratic. It's fucking treason.
Verhovstadt has already said that he wants to do away with the parliament and have decisions made by the commission.
So Catherine will be out of a fucking job anyway …. where will your "power" be then, cunt?
This twat says that "brexit is unpatriotic"and apparently she's "fighting for the people".
When you vote on the side of the EU AGAINST the country that you're paid to defend, that's UNpatriotic and fighting against a democratic vote is NOT fighting for the people, but against them.
Obviously channel 4 have crawled right up her arse and the fact that they give traitorous cunts like this airtime is indicative of the attitude displayed by the "elites" (as they love to call themselves) and their contempt for the working class voters of this (once great) country.
There are many reasons that I'm glad that we're leaving the EU, but the fact that this cunt will lose her job and perks is definitely one of them.
Catherine Bearder.
Move to the EU and apply for citizenship if you love them so much.
Suck Guy Verhovstadt's cock as much as you like ….
WE'RE LEAVING THE EU AND IF YOU DON'T LIKE IT … TOUGH SHIT!
You're not powerful, but on the flip side you are now famous…
Famous for being a treasonous cunt.
Nominated by deploythesausage