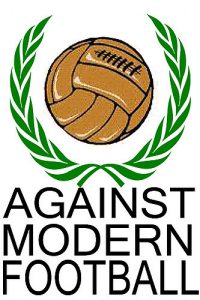 Modern football is absolute shite for many reasons and deserves a bloody good cunting.
The fact that the bastards who control all football related activities are corrupt as fuck makes for grim reading. They don't seem to give a flying fuck about the fans. They are only concerned with lining their own pockets with stacks of cash; a lot of which comes from bribes and various back-handers. FIFA are the most notorious of these crooks but the rest are just as bad. Self-obsessed, money-grabbing, suit-poncing, fuckwits the lot of them.
Then we have the owners. Rich bastards who come from overseas with the promise of turning a pub team into a money-fuelled powerhouse, capable of winning an array of silverware. Most of these cunts oversee some success but then become bored, thus jumping ship and leaving the club with a load of overpaid nancy boys who they can't afford to keep and a mess of spiralling debts and dodgy loans. The ones who do decide to stay for the long-term end up creating a monster, backed with endless sums of money and winning their league by about 50 points. They win all their games and no one else can compete with them. This makes the various domestic competitions dull as fuck and very predictable. Most notably, PSG are pretty much owned by an entire fucking country where spending £200 million on one player is like the average cunt buying a packet of pork scratchings down the local corner shop. Most owners these days are either Arabs, Chinks or Yanks who know fuck all about football and are just using a club as another business venture to make even more money that they don't need.
Then we have the players. Bland idiots who seem to be void of any real personality. Just like the owners and the corrupt football governors, they don't really care about the fans or the club. All they're really concerned about is picking up their huge pay check and poncing about with their hair and socks all match. Mincing about the pitch like a fairy, cheating, diving and kissing each other as well as slapping each other's arses. What a bunch of bloody shirt lifting cunts. The diving and play acting is the worst part. A tap to the face or a gentle push and they drop to the floor like they've been shot at point blank range by a double-barrelled shotgun. The same can be said when they feel the slightest bit of contact and go down far too easily to win a penalty or a free kick. Also, when they run over to the referee and ask for a card for the opposition player. It's like at primary school when that one little snitch would run straight up to the teacher to report some pathetic incident. The ex-footballers turned pundits are just as nauseating. Having to listen to their tripe is nothing short of being so excruciatingly painful that you feel like blowing your fucking brains out. All these footballing cunts have been pampered and micro-managed and don't have a scooby when it comes to anything outside of football. Some of these cunts need a good pasting.
As if being paid in a week, what most cunts earn in a decade wasn't enough, these greedy little shitheads rake in more money through advertising and sponsorship. Being paid more millions on top of their current fortune for standing in front of a fucking green screen is ridiculous. Also, what is it with some of the fucking rules? A player takes his shirt off for a few seconds and is carded for it. This is apparently because the sponsor is paying to be on the shirt. Get off your high horse you utter wankers. Your brand image being invisible on one shirt for a few seconds isn't going to cost you any money or affect your sales. You shit-mongering, controlling arseholes. Stadium atmospheres in England are absolutely diabolical compared to other countries thanks to the high number of tourists with their shit half-and-half scarves and their appalling selfie-sticks. The fact that rail-seating doesn't exist in this country is ludicrous. It works in other countries so why not implement it in our stadiums. The FA and the British government are too tight and lazy to bother changing the current all-seater shite and keep hiding behind Hillsborough as a weak excuse. We all know that the Hillsborough disaster was down to poor stewarding and policing. It has nothing to do with the terraces. It was the fault of the inept stewards and the plod cunts. This has been proven. It has also been proven that rail seating is safer than the 'safe standing' areas we have in this country. Ticket prices are also extortionate and this is a bloody disgrace as hard-working fans can't afford to see their team play regularly and the tickets are getting snapped up by tourists and the prawn sandwich brigade. This leads to a shit atmosphere at games most of the time because these types of people aren't going to be the ones making the noise.
I could go on all day to be honest but this has already turned into a fucking essay and to make it any longer would be a waste of mine and everyone else's time. I've summed up most of the problems we have to suffer with when it comes to football in this modern day. Football is a cunt and most of the people involved with the game are also major cunts. Fuck you, cunts.
Nominated by Jayniño