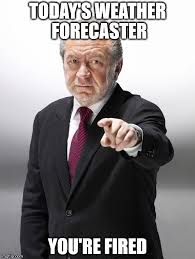 Right up there orn Yours Truly's list orf most despised Yankisms, "LET GO" screams trying to toadie wit de yoot and merely makes faceless HR (Human Resources) cunts feel better, not the poor cunt that has just been given the old Push.
"Honey I'm home late and pissed and have drunk the remains of our savings away. Time for you to go work the streets again. Don't cry old soldier, it's an end to being stuck indoors all day. No not because I have been sacked, absolutely not, they have "let me go". Be positive, little smile my love. I'll give Bright House a call and they can take away the furniture and I'll wear a head-guard, mouth-guard and groin protector when Nigerian Nige calls for the rent". Sorted.
"Let Go"? It's SACKED You Cunts. YT has expertise having been Sacked, Canned, Dismissed, made Redundant or otherwise Fired from every job I have ever had. In short YT has been given Notice, the Bum's Rush, the Boot and the old Heave Ho. Keep me P45 on a piece orf elastic. Hence YT has made his way as an Independent Executive, an Entrepreneur, a Consultant and latterly as a Producer orf Entertainments Artistic (know me knockers from me knackers). Less likely to sack meself.
"Let Go" has its place. Was gallows humour when engaged in a spot orf liason in the Eastern Bloc. Cut a long story, positive epidemic orf black hat cunts dismissing themselves from the Russkies employ via twelth storey windows. Much embarrassment all around plus a quantity orf brain mousse and claret. Interesting how the old corpus behaves when brought up short in an abrupt manner. Brains shoot oit through available orifices such as nostrils and ear'oles while the lungs explode out through the chest cavity (remember Princess Di). Very educational but I digress. Point is like any old game you get to know the players. Suddenly a certain dodgy cunt is no longer in the room as it were and is subsequently peeled orf the pavement.
"Interesting aboit old Ivan. His friends? Apparently not, Johnny Bulgar (the Bulgarians) were involved. Very reasonable on price but not known for their finesse. He was let go."
Quite.
Nominated by Sir Limply Stoke