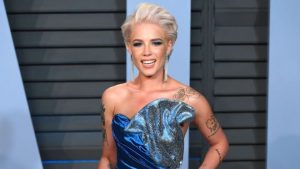 This twat reckons that shampoo in hotels ignores black people…
I know: world's gone mad. PC dictatorship, offended by anything, absolutely everything now has to be for and about john john… But trying to make out that shampoo is racist?! What the fuck will it be next?! Baked beans? Pot Noodles? Shortbread fucking biscuits?! 'White shampoo'? What is the daft fucking bitch talking about? Halsey is a virtual signaling snowflake slag and a complete cunt...
Nominated by Norman
With follow on comment by Lord Benny.
Why on earth would someone spend so much money on surgery to become the thing they despise?, can I just point out trying to buy a bottle of "Head and shoulders" in Lagos is about as easy as finding an honest trader!