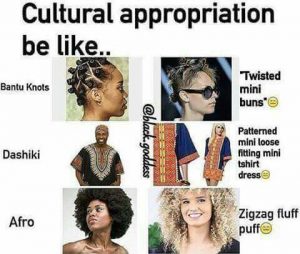 Twatter has been alive this week with some bloody idiot with too much time on his hands and a massive chip on his shoulder criticising some little girl who wore a Chinese dress to her prom. "My culture is not your prom dress," he whined. To her credit, the girl in question did not cave in like so many people do when faced with a self-righteous Twatter mob. The poster in question must be a total cunt as he was slagged off in the Guardian and Putin's Independent for fuck's sake.
Cultural Appropriation simply does not exist. From the dawn of time, humans have copied the best (and worst) of other people's cultures. Ideas as well as goods have followed trade routes. I thought we were supposed to embrace other cultures and celebrate diversity according to our moral superiors at the bastard Guardian and Jimmy Savile House.
And Cultural Appropriation is a deeply sinister idea; it may even be a fascist idea (in the true sense of the word rather than it's modern form of 'someone with whom I disagree'). What could be more unpleasant than confining people to their supposed 'birth culture' and refusing to let them make their own choices? How fucked up must you be to police what other people choose to wear? How fragile must your self-esteem be to get upset by the clothes worn by people you have never met?
Remember when Norman's favourite singer Katy Perry was criticised for 'appropriating' Japanese culture in one of her videos? A reporter went to Japan and talked to actual Japanese people who were really pleased that foreigners were choosing to embrace their culture. Being 'offended' on behalf of other people makes you a cunt of Brandian proportions.
In the unlikely event that General Cuntster holds a ISAC Halloween party over in Yankland, I will attend wearing a sombrero topped with a Native American headdress and a Japanese kimono with Chinese dragons printed on it. Oh, and a Nazi armband just to complete ensemble.
Fuck them.
Nominated by, Cunt's Mate Cunt