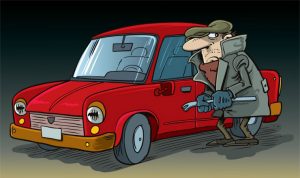 I want to nominate car thieves. Last night, some unknown, cock sucking, inbred, donkey fucking sack of monkey shit stole my three week old DS3. I loved that car. It was fast as fuck, beautiful look at it, with it's dark blue paintwork and drove like a dream. Now, I've slagged the Old Bill off many times here on ISAC, but I have to take my hat off to them. They found the car within two hours. It had been crashed into a wall and torched, but I really can't fault the police for their work on this occasion.
The plod who broke the bad news actually told that they knew who had done it, because, believe it or not, the spot where the little cunt crashed it was covered by the brand new, HD cctv camera of a local shop, and they had a crystal clear image of the little shite, and his butt buddy. He was genuinely sorry that he couldn't give me their names and addresses, but as he said, I'd end up being arrested. That it's very true. I would've been arrested for murder, because I would have strung the little cunts up from the nearest lamp posts, after I'd beaten seven different shades of shite out of them, and their parent/s.
Car thieves, like other criminals are scum. They should be shoved back up their mother's the second they slither out. I've never had a car stolen before, probably because, for the most part, they've been parked overnight at an Army camp, patrolled by armed men and women, and dogs that love to bite scum bags. I can't describe the anger I feel right now. Homicidal doesn't seem to come close. I just hope that one day, these two little cunts have something they value stolen. Then they'll know what it's fucking like. Cunts.
Nominated by, Quick Draw McGraw