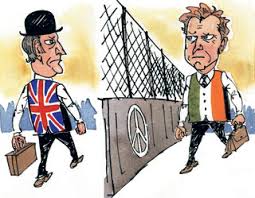 The good Friday Agreement,
Now what a cunt fest that was, admittedly to the bystander Ulster was a mess and it was, but more by our doing than theirs.
Sectarian violence flared, the catholic minority was persecuted by the Protestant majority and Stormont was suspended, British troops were deployed to protect the Catholic enclaves, all was well.
In the enclaves the IRA fermented the rumour of the army of occupation the sides withdrew and started a new kind of war and a new cooperation, a mafia stile vendetta against there own as they scrabbled for turf and control, turning some areas into "No go areas" and deploying their own version of law enforcement.
Realistically the home war was un winnable, it still is, so the war was exported to mainland UK hitting soft targets but mopping up the odd over zealous person at home (sometimes set up by the Prods as they fought their own internal power struggle) all the while the thin green line took the shit from both sides, the only difference was although out manned the IRA out gunned the protestant paramilitaries due to their wealth of support from the soviets and America, The prods were poor and due to loose association with the security forces loosing a lot of there meagre supply of weapons.
In 1990 the berlin wall came down and a buyers market opened, weapons were available to the highest bidder and the prods lost there first major shipment, at the time hailed one of the largest hauls recovered by UK police, the UVF described it as a drop in the ocean…..Jerry Adam shit his pants time for peace.
The outcome? Well the release of paramilitary prisoners, un caught murderers pardoned and bygones became bygones, no one was going to do anything to anyone, apart from the thin green line, they were never written in to this peace accord nor were the thin blue line, it has become open season on the ones we put in harms way to keep the peace and we are now paying murderers compensation (makes my piss boil)
Well fuck this, I see nothing good about the Good Friday agreement, I see nothing good about the new threats being made about Brexit and the border, the cease fire was inevitable when the balance changed, all that can be said is that Civil war was an unacceptable option on UK soil in the eyes of HMG (yet walking round london you sometimes wonder why) but fuck it lets not put the line between them but on the border and see what happens.
Nominated by, Bobby Sands