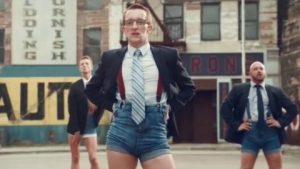 I've just seen another one of their shit fucking adverts, and I have to have a whinge about them.
All adverts are cunt right? But some are far more cunt than others. Price comparison websites are leaders in super cunt advertising, and money supermarket,com are the pinnacle of cunt. Why? Because every single fucking ad they make is gay.
Twat bald cunt twerking in heels and hot pants, fat cunt building site cunt cavorting on scaffolding like he's pole dancing. Then there was the He man and Skeletor getting loved up in a dirty dancing homage.
Now, the latest atrocity is a stop motion action man full monty type romp, complete with drag queen pop anthem soundtrack. As Windsor Davies would have said once, 'it's blatant poofery' And fucking annoying as shit.
If someone said that I was 'so money supermarket', I'd kick their fucking teeth out. Cunts.
Nominated by Gutstick Japseye