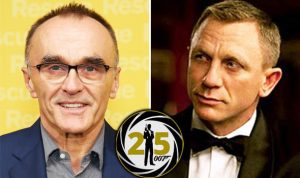 Danny Boyle has been given the job of directing and writing the 25th James Bond film and has been stating that it's story will be inspired by the Timesup and Metoo campaigns, and that he wants to bring the character of 007 "into the 21st century".
Supposedly Richard Curtis is involved as well (that's Richard "let's kill children who question climate change" Curtis, the cunt).
Plus of course those unfit-for-purpose halfwits Purvis & Wade and the turd icing on the cake Daniel "wingnut shortarse" Craig.
Apart from having his character ripped apart by every female member of the film's cast, I'm guessing that a Boyle directed Bond will turn to hard drugs, saw his own arm off to escape a trap, go to a rave, use a pushbike instead of an Aston Martin, jump out of a helicopter with the Queen into a big stadium and pop up in two really shit Inspector Morse episodes (how fucking drunk must they have got Colin Dexter to get him to sign his name to "Masonic Mysteries" and "Cherubim and Seraphim"?).
This at least proves one thing, there is no entertainment anymore, just propaganda.
Fleming and Cubby are rotating in their graves…
(And Connery and Brosnan are probably laughing their arses off)
Nominated by Mr Bastard