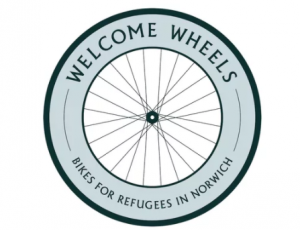 So many cunts, so little time. But perhaps ISAC can find space for these utter cunts and all they represent.
This URL is sufficient to convey the true horror of making a shower of hungry illegals sufficiently mobile to plunder the surrounding cuntryside of anything not red-hot or wheelclamped, while bringing motor traffic to a complete halt due to their attempts to ride on the wrong side of the road en route to cleaning out the nearest fishing lake. My predictive powers fail at this point: the potential for unforeseen consequences is infinite.
In my line I am extremely likely to meet some quinoa-farting sandalled virtue-signalling flake who will tell me how he/she/it/ has given an 'asylum seeker' a new life by providing it with the means to get to the DSS. I shall be carrying an iron bar at all times from now on. The conversation will not be a long one.
Sentimental and thick-to-the-core CUNTS.
Nominated by Komodo