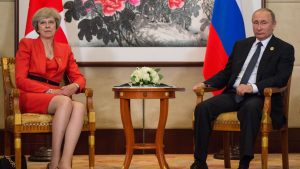 Russia's Midnight Deadline – Theresa May continues to show what a complete useless cunt she really is.
For her to think she even interrupts Putins wanking time to worry what it is she can do after midnight, when they return to say it wasn't me gives her another gold star in being fucking useless.
So, at 12.01 when he simply tells her to Fuck Off, she will be whimpering to Macaroon for a solution and trying to get the Donald off a Porn Star to maybe tweet it.
Boris has the answer though, don't send any dignitaries to the world cup. Yes Boris, that will fuck them.
If this poison is so deadly and only available from the Russian Military how is it that it got to Salisbury in the first place?
Did some cunt hide it in their sox at customs?
Fuck off you useless twat.
Nominated by King Cunt