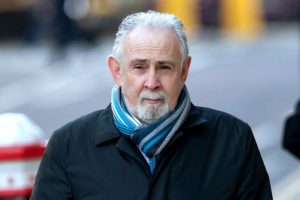 I'd like to nominate IRA murdering filth John Downey for a cunting, and the terrorist appeasing fuckwits at the Legal Aid Agency. At this moment in time I can't decide who is worse.
Downey was responsible for the 1982 Hyde Park bombing that killed 11 military personnel and injured countless others. Naturally it fell upon the circus of clowns that is our beloved police service to botch the investigation. The trial against Downey collapsed because the police 'forgot' that they had sent him a letter promising him immunity from prosecution, as part of Tony Blair's hug-a-murdering-paddy campaign in the 1999, aka the Good Friday Agreement.
So when the victims' families decide to sue this poisonous leprechaun in civil court, the legal aid agency refuse to grant the necessary funds to do so on the grounds that "it would not be in the public interest." Despite the fact the LAA had already given Downey £50,000 to fight a criminal trial that never happened. Not forgetting the £22 million that the LAA have paid out to jihadis and other assorted terrorists to help defend themselves over the years, meanwhile telling the victims families to put up or shut up.
The victims' families appealed against the LAA's decision no fewer than 6 times. Each time the LAA coming up with a new set of excuses as to why they should all fuck off, ranging from: "it wouldn't be fair on Downey" to "he's got too strong a case for you to beat him." Naturally, the only language these government apparatchiks understand is newspaper headlines, and it wasn't until the families took their cause to the press the LAA did a massive volte-face, cranked up the damage limitation engine and then accepted the application. Of course the LAA corporate press release made no mention of why they had refused the application 6 times before and now, and only now, they had accepted it.
What the families expect to rinse out of this mass murdering, psychopath in civil court I can't imagine. The guy doesn't look like he'd fetch five pence at auction. Besides which they'd probably find he's already in debt to his own moral bankruptcy to the tune of about ten billion pound.
Nominated by megacunt