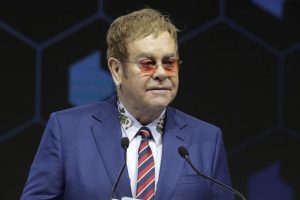 The fat glutinous baroque cunt has just received "an award for raising awareness of human rights issues at the World Economic Forum (WEF) in Davos."
https://www.standard.co.uk/news/world/davos-2018-elton-john-blasts-disgraceful-inequalty-as-he-picks-up-crystal-award-for-human-rights-a3746871.html
"John urged delegates at Davos to work on improving the state of the world. He said: "The world needs to be changed – the inequality in the world is, to be honest, disgraceful."
The musician, who is believed to be worth almost £300m, said he became a philanthropist because he had "lost who he had become" and "wanted to be a decent person"."
Well good for you, Elton. Philanthropy, now. You gave £26.8M to charity last year: your annual income being not too distant from $200M US. Most of your donation went to your own HIV/AIDS charity, which, worthy as its objectives are, is nothing to do with general economic inequality. Economic inequality consists of a few people having £300M in the bank and a cheque to bearer every time they open their mouths, while large numbers of people have fuck-all, mitigated if they are lucky by their tiny share of your donation, less exes.
Davos doesn't change this. Being at Davos doesn't change this. Davos is 100% about making sure that the position remains unchanged, in fact. Nobody poor is allowed in. Predatory capitalism is the unchallenged ethic, and its perpetuation the only reason for the attendance of the world's corrupt leaders, overpaid CEOs and crooked moneymen. Fuck off, Elton. You've just validated the system you're bleating about.
And even if you hadn't, you'd still be a cunt. Fucking stupid glasses, earrings, and – what the fuck is this? An RAF tie? You weren't in the mob, Elton. What would your dad, Stanley, ex-RAF flight-lieutenant, have to say about that? He didn't like your music, either. Walt (er Mitty) cunt, or cunt with daddy issues?
More would be superfluous (see previous cuntings). I rest my case. For now. Cunt.
Nominates by Komodo