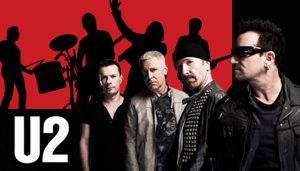 Now there's so much to say about Bono and the rest of his band…
We could look at the fact that 'Bono' basically means 'good voice', but I find that quite modest for a man who prances about like a walking incarnation of God. We could also look at how Bono brags about being such a humanitarian hero, while being too selfish to pay his taxes to the country he thinks he owns. But, the other week he and the rest of U2 topped all that. They went to record in Abbey Road studios, and only went and fucking stood on the abbey road crossing.
Bono thinks he can stand where John Lennon stood? And some cunt who calls himself 'The Edge' in George Harrison's place? These egotistical cunts are barely worthy of breathing the same air the Beatles breathed, never mind replicating their iconic album cover. Bono probably thinks they're already bigger than the Beatles to be honest. After all, a band fronted by God himself is a pretty rare fucking sight to behold. Plus, it's not like John Lennon ever did anything to help people, right..?
Bono is truly one of a kind. And then there's the guilt-inducing 'thank God it's them instead of you' from Band Aid, from a man who looks down upon everyone else, and spends the money he should pay as taxes, on making out like he's changing the world. Also the irony in God himself telling people to 'thank God' is quite something.
In summary, Bono is a cunt. 'The Edge' is a cunt. U2 are cunts.
Nominated by LG1994
And lest we forget this classic moment :