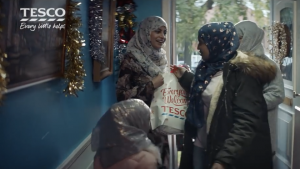 Christmas advertisements which have an overt "peaceful" presence – are they for fucking real!?!
Last night I had the misfortune of witnessing ABBC1's Christmas advert for the first time. All very plausible except until you realise that the main protagonists are a swarthy "peaceful" looking cunt and his (no doubt genitally mutilated) daughter. The story/sentiment is bang on, the characters "right-on", and in the process falling completely short of the reality – "peacefuls" do not celebrate Christmas.
Next up – Tesco's "Turkey Every Way" advert. Please note the scene at 34 seconds in. Again pure reality – "peacefuls" do not celebrate Christmas.
Also extra cunting points for having one of those snowflake screechers ruining further the very shite Shakin' Stevens "Merry Xmas Everyone" song in the de rigueur "breathy" voiced, acoustic rehash, which accompanies the ad.
Maybe the first verse of that song should also have been rewritten to truly reflect a modern, "peaceful" Britain…
Bombs exploding,
All around us.
Children dying,
And their Mum's.
Tis the season,
To kill a few more people.
Alluah Akbar everyone!
My point is this, if we're going to be properly inclusive of all faiths then why are there no Jewish, Hindu or Sikh characters/actors enjoying the celebrations along with our "peaceful" friends?
I honestly just don't get why everyone from the meejah to politicians to ad campaigners are so hell bent on only ever promoting a positive image of our "peaceful" friends when – yet again – the reality is the complete opposite!
Cunts!
Nominated by Rebel without a Cunt!