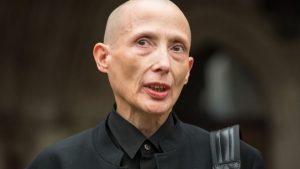 Some non binary tranny fucktard has been given leave to appeal to the high court (or higher, did not read it all) because he/she/it is demanding a non-binary passport.
I say FUCK OFF YOU RETARD.
Nominated by kravdarth
An emergency cunting is required for professional mutant and passport gender objector Christie Elan Cane.
This Nosferatu doppelganger has secured the right to take on the government over the requirement for passport holders to disclose their gender. Apparently born as a woman, Cane had its female sexual characteristics removed and had the leftovers thrown to the dicky birds. I.e. no twig and berries fashioned from the meaty scraps.
Cane, quite correctly, has 'female' on its birth certificate. Whatever cut 'n shut work has taken place since, it is still female. This will never change. The only people who believe this is fluid or erasable is frankly in need of a strait jacket and a high dose of sedative.
What superheats my piss is that all of us who hold passports don't get a say over one oversensitive, mentally ill Michael Stipe lookalike, that is likely to get its way if right-on cock-decryer, Maria Miller has a hand in the proceedings.
Fuck off Cane, you bald, emaciated little cuntwich. This bullshit propagated by the mentally ill really needs to stop before the likes of Cane are pushed off a very high cliff.
Nominated by Paul Maskinback