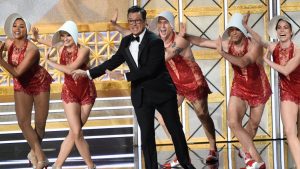 The Emmys – Just like the bilge-fest that was the Oscars, yet another yank luvvie vehicle for Trump bashing.
Yes – glitterati – Trump may be a shite President but have you ever thought about why he got in when 95% of the press, etc., we promoting Killary?
The answer is that ordinary yank folk (outside of the political and media bubbles – who hate ordinary folk) actually voted for something, anything other than yet another 4yrs of political sameness where no one in power gives a fuck about them so long as they are in power!
You cunts in Hollywood are so far removed from reality it's unreal, I just wish the same folk who voted Trump would stop watching your films and TV series. As soon as those ratings began to fall you sharp change your La La Land tune, or at least shut the fuck up! You cunts!
Nominated by Rebel without a Cunt!
Who the fuck is that gormless looking git who hosted the Emmys? Talk about cringeworthy embarrassment on a stick! Completely not funny or in the least bit entertaining, so I guess he's American?
Some talentless twat call Stephen Colbert, apparently. Never fucking heard of him!
Let's keep it that way…
Nominated by Dioclese