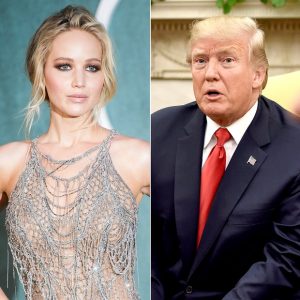 Now we all know that Yanks are thick cunts and that Yank celebs are the thickest of the lot, but Jennifer Lawrence has taken thick Yank celebrity cuntitude to a whole new level by announcing that the devastating hurricanes in Texas and approaching Florida were signs of "Mother Nature's rage and wrath" at America for electing Donald Trump and not believing in man-made climate change.
Now I know cunts like this will blame any and everything on Trump but just how fucking dim do you have to be to blame the weather on him?
Go back to flashing your tits in second rate movies darling and leave reality to the grown ups.
Nominated by Dioclese