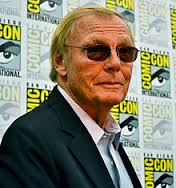 Congratulations to Black and White cunt who correctly predicted that the next celeb to die would be Batman Star Adam West. who has died of leukemia aged 88.West will always be best remembered for Batman but was also well known to younger audiences for his role as Mayor West in Family Guy.
So the slate is wiped clean and nominations are now open for Dead Pool 62.
Here are the rules (pay special attention to the first one):
1. Nominate who you think is the next cunt on the way out. You can have up to five choices. List your nominations in the comments of this post. It's the current Dead Pool. Comments not in this post (e.g. in the previous one or other posts) will be ignored!
2. You win if your Cunt dies first.
Then the slate is wiped clean and we start again. Of course, you can always be a really annoying cunt and steal someone else's dead cunt candidate from the previous pool (like Black and White Cunt frequently does).
Any cunt who tries to cheat by nominating the World's Oldest Man or Woman is a cunt and will be ignored. Any anonymous cunt who can't be bothered to make up a name for themselves will also be ignored. Oh, and the usual "Our Blog Our Rules" thing applies.
Nominations are now open on this post only. Good luck.
Shaun`s nominations:
Terry Jones
Freddie Starr
Johnny Hallyday
Bill Wyman
Leah Bracknell