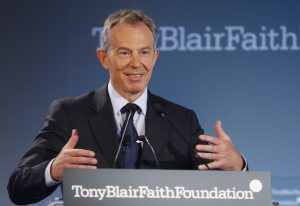 Mr Tony Blair runs a well oiled machine..He is slick and he has all the skills that are required to ease back into the limelight. He can purchaser's power, he can pull strings, and above all, he can rely upon the support of the Braun Cow of Deutschland.
The trivial matter of a British electorate who are diametrically opposed to Blair's return will NOT hinder this mans progress.
Democracy will be set aside , a fanfare will sound, and the Different"Hosannah", and the laying of palm fronds will herald the arrival of the antichrist.
Votes and demonstrations will not stop this man, he is evil incarnate. A "cunting" no matter how well deserved is quite insufficient in this mans case, only a visit from the "peaceful ones" can end his reign.
Isis….Isis…where are you now?
Nominated by asimplearsehole