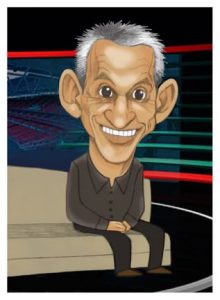 Gary Lineker is a monumental cunt…
He said this about the French Presidential Elections: 'Huge disappointment, resentment and bitterness amongst some of UK's fascists this morning. She lost (comfortably). Get over it.'
But when somebody replied to him, 'So, why can't you get over Brexit?' Fanny Lineker responded, 'Missing such an obvious joke is a blocking offence i'm afraid.'
This snotty cunt can't even answer a civil question and 'blocks' anyone who disagrees with him?… And the smear of shite has the audacity to talk about fascists?!?…. Hope he falls off a fucking big cliff…
Nominated by Norman
I can't abide that rectum of rectitude, Lineker.
A pious, jug-eared wankspangle sums him up nicely.
His only and modest talent lies with advertising crisps.
No wonder his Mrs ferked off. He was probably up in his private study, spanking himself over the Brexit referendum every night. Leaving her to play solo gusset typing.
Nominated by Paul Maskinback
Hell will freeze over before another Walker's crisp passes between my lips. I might write to them and tell them that…..but I will relent if they sack the bastard. Does anyone know where I can buy "fascist" crisps?
Nominated by Freddie the Frog