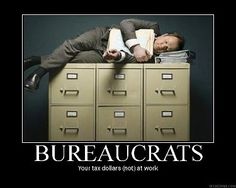 Bureaucracy is a cunt. It suppresses the populous and stifles innovation and development. Bureaucracy is pro the status quo, the reason dictatorships love it so much. Every dictatorship in history, from the Romans to the Nazis had huge bureaucracies to regulate and stifle change.
Spain is no exception. Until the death of Franco in 1975 Spain was a fascist dictatorship and true to form had a huge and complex bureaucracy which persists to this day. It is not just official government bodies which are bureaucratic, but private organisations and companies have hugely complicated internal systems too. A private housing estate of 200 houses and flats has a president, a vice president and 3 deputy presidents. Why?
I'm currently selling a motorbike in Spain. In UK a simple task to change ownership of a vehicle, just fill in the log book and send it off to DVLA and within a week new papers will be issued. Costs you the price of a stamp and an envelope. Not is Spain however. I can't even describe the process for transferring a vehicle in Spain, it is so complicated. Not only that but costly, I have to pay tax on the selling price, the buyer has to take a day off work to visit the traffic department in person and pay a fee to have new documents made in his name. Most people, including the Spaniards themselves, employ a professional to do it for them, a kind of paralegal called a Gestor, more expense.
On top of that cancelling the insurance is no simple task either. You must inform the insurance company, in writing on the correct form that you no longer wish to renew the insurance at least a month before the renewal date and if this is due to sale of the vehicle official documents to prove the sale must be provided. Failure to comply with the letter of these requirements will result in them charging you the full premium by direct debit which you cannot stop, every year, FOREVER!!! And there is not a fucking thing you can do about it!
It's a fucking Kafkaesque nightmare of a place. By all means visit Spain on holiday, enjoy the sunshine and cheap booze, but never ever contemplate living there.
Not only does bureaucracy stifle innovation and growth, it actively encourages corruption. The more complex the rules, the more likely people are to circumvent them. Is it any wonder that highly bureaucratic places have poor economies and high corruption? Not only this, it is expensive to maintain all those cunts doing mindless paperwork, that is why taxes are high in large bureaucracies, prime example the EU which spends £130 million a year just to allow the European Parliament to decamp from Belgium to France every month, because it is in the rules that they should do so.
And those working in bureaucracies are cunts and all, dictatorial jobs worth twats who know full well they are in a job for life so long as they continue to enforce the same repressive procedures. Bureaucracies are full of people doing their job but precious few actually working. Cunts!!!
Nominatd by Skidmark Eggfart