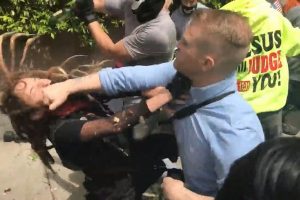 Antifa have been busy showing their true colours recently, especially in the US. In the last week, a group of these unwashed cock jockeys turned at UC Berkley to try to deny a group of Donald Trump supporters their right to free speech. Thereby proving Churchill correct when he said, "The Fascists of the future will call themselves Anti-Fascists". Although despite turning up with weapons, with which to beat the unarmed Trump supporters, they managed to turn victory into defeat.
It started with pepper spray, bricks and stones. Then someone had the bright idea of throwing a smoke grenade to cover an Antifa charge. From a military perspective, that's not a bad idea. Unfortunately for Antifa, they're not very bright, especially the clown who threw the grenade, because nobody thought to check which way the wind was blowing.
Anybody care to guess what happened next? Yeessss! The smoke from the grenade blew back into the Antifa ranks, allowing the Trump supporters the chance to defend themselves. Despite being unarmed, they turned an unprovoked attack by left wing scum into a rout.
One of the funniest things about this, has been the whingeing from the left after a video of a female Antifa dickhead getting punched squarely in the face by a male Trump supporter. Now, I don't normally support violence against women. However, this bitch had gone their specifically to fight, having boasted that she would get "100 right wing scalps".
Her getting punched isn't what amuses me. It's all the left wingers, who continually tell us that gender is irrelevant and that the concept of man and woman is a myth, are now whingeing that it's wrong to hit a woman. Well, welcome to the real world snowflakes. A world where, if you turn up to an otherwise peaceful gathering of people whose views differ from yours, with the intention of committing violence, you're going to find that people will not simply stand by and let you hit them. They will hit back.
The saddest thing about this, is that the police were apparently ordered to stay in their vehicles and do nothing. An order which they cravenly obeyed to the letter. Cunts.
Nominated by Quick Draw McGraw