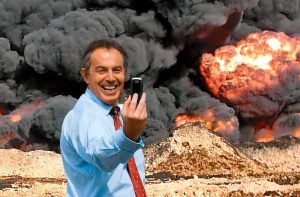 I'd like to nominate Tony Blair for a cunting.
His utter contempt of the British people as being "too thick to decide" with regards to Brexit (and that cuts both ways against those wishing to leave as well as those wanting to remain) just exudes everything that is wrong with him and his faux left-wing cronies, i.e., "Ours is the party of the people! Now let us dictate exactly how you live because you cannot be trusted to make any decision for yourselves. Power to the people! We just don't expect you to use it, we'll do that for you."
The conceited superiority of this cunt really needs slapping down! And would he have been so vocal had the result gone the other way? His way, the gravy train for him and his cronies way?
It's no secret that Tony B.Liar had designs on the top seat in the EU with all of his toadies in tow like Mandy Mandelson and Alistair Campbell, which halted as the WMD scandal hit.
But now the cunt is back and is shilling for another seat in the EU and his vehicle is to rabble-rouse the remoaners into kicking off (not that they need much of an invitation), even after parliament has now decided and passed through that Article 50 should be invoked (House of Lords aside – another nest of unelected cunts).
The cunt has obviously been promised something from Juncker, Tusk or Verhofstadt to attempt to derail democracy because once invoked in the UK they're bricking it that their house of cards will collapse all over them! And let's face it, that would be no bad thing, unless you'reof the ilk of Tony Blair and his cronies!
Tony Blair, you are a cunt. An educated lawyer type of cunt (to worm you way out of shit with your smarmy legalese) but when it came to Brexit yours was one vote. When it came to Brexit, mine was one vote.
Your vote does not count more than mine just because you are a cunt of undefined proportions!
Nominated by Rebel Without a Cunt