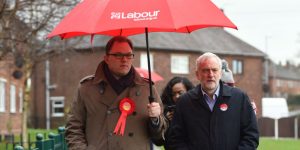 While we're slagging off Paul Nuttall for behaving like a cunt, it would be a shame to not nominate and even bigger cunt. Enter Gareth Snell, Nutter's Liebore opponent in the Stoke byelection.
Snell reckons that people who vote UKIP are the "sort of blokes that nick your bike" and that Brexit is a "massive pile of shit" but strangely none of these things get much of a mention on Al BBCeera.
So while we're on the subject of old shit surfacing from Nuttall here's some from Smell –
In 2011 he tweeted that Coronation Street's Deirdre Barlow should be given a "good slap".
In 2007 he described panellists on ITV's Loose Women as "squabbling sour-faced ladies", called presenter Janet Street-Porter a "polished turd" and said a "speccy blonde girl" on BBC's The Apprentice should "piss off".
He said: "I said some very silly things back in 2007, so what's that? Almost ten years ago. And I apologise for those because it was wrong. And I think I should be judged not necessarily on what I said in 2007 but the actions that I have taken subsequently."
Shame the fucking hypocrite cunt doesn't apply the same rules to his opponent.
Nominated by 'Appy 'Arry