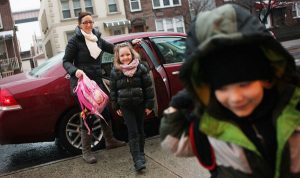 I'd like to Cunt (running late) mothers dropping off or picking up the brats from school.
In the morning they will do anything to get the kids dropped off right at the school fucking gate … I'd a pyjama clad fucking mother drive a good 50 yards up the wrong side of the fucking road (that was my side) so the kid could be dropped off at the gate. I couldn't figure what was happening as I thought she was only pulling in 'down the street' to drop the kid off … No, no, no .. pull in, yes… but keep driving up the wrong side of the road. I'd to pull across the street and she still didn't acknowledge I was even there.
And at the end of the day .. if you are within a quarter of a mile of any school at around knocking off time.. look out, 'Late Mummy' is on her way … she's late and couldn't give a fuck about any other road user. She's had big Winston round since the kids were dropped off, had a bit of a snooze, forgot the time , then suddenly realised her kiddy winkle needs picking up. She can't be late as her old man will ask her why. She then drives like a fucking maniac to the school gates.
Next time you see a single woman drive like a fucking idiot mid afternoon … check your watch .. it will be 'the back of three o'clock', and you will be within the vicinity of a school.
Cunts.
Nominated by: Boilsmypiss