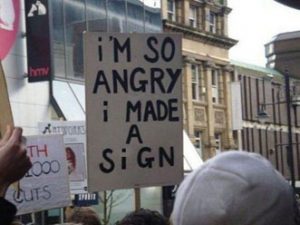 I'd like to cunt anyone who insists on using a lower case 'i' on banners/posters or what fucking ever thing they want to use to make a fucking statement.
When you write with capital letters you fucking don't put a fucking little letter 'I' to let everyone know it's a fucking 'I'. I've noticed this getting more and more prevalent over the years. Does my fucking nut in it does.
When has the letter I been lower case on a keyboard? Fucking when? Eh? fucking never, that's when, you cunts. Go on, you thick twats, look at your keyboard! It's a fucking upper case fucking 'I'. So why do I have to endure some cunt statement saying something like 'NOT MY PRESiDENT'.
Are these cunts completely devoid of basic fucking grammar?
Nominated by: Wankycunt