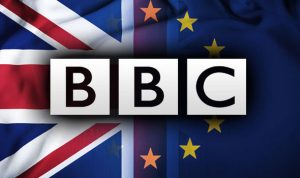 I'd like to nominate the BBC for a further cunting. For weeks those cunts have been droning on about the "fall of the pound" as a direct result of brexit while also neglecting the fact that exports were up because of it.
Today in the business news segment there was a 20 second soundbite that the pound has risen significantly against the Euro and the Dollar, before then spending 5 minutes crying about housing development being down, because of brexit, and that it was bad news for the government.
Utter cunts. If the pound rises a bit more what's the betting that that is reported in another 20 second soundbite before spending 20 minutes discussing the impact on exports with any remoaning expert they can muster!
Utter partisan biased cunts!
And why is it that in every segment they begin about Trump since his election they begin with the: "And we will build an impenetrable wall…" video before discussing what they actually want to get on about to do with the President Elect? Cunts!
Nominated by: Rebel without a Cunt!