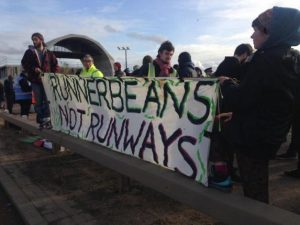 I'd like to cunt Heathrow expansion protesters. Yet again we have these fucking (young) middle class SJW's lying on a road with their arms linked together in a fucking drainpipe shouting shit about not wanting another runway at Heathrow.
What really grinds my testicles is that they probably don't live anywhere near the fucking place. Some cunt even had the audacity to bring out a banner saying 'Runner beans not Runways'. I tried to find 'buying runner beans near Heathrow'. Even the internet couldn't find anything.
Don't get me wrong. I do feel for those who will lose their homes, businesses and pubs, etc. However, I am in the fucking 'flightpath' of HS2 so will be willing to take the fucking money and move on with a nice bit of cash in my pocket and compo to boot. I hate where I live anyway so fuck it.
Most of these cunt's protesting aren't directly affected. Fuck off home. There's plenty of perfect arable land for growing fucking runner beans in Surrey. You probably already know that which is why you made the banner, you fucking whinging cunts.
Nominated by: Wankycunt