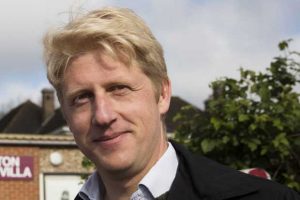 Right! I am getting really really sick of posh cunts like Jo Johnson (brother of Boris) and their protestations that only thickie cunts with no education voted Brexit and that all people from disadvantaged backgrounds need brainwashing by the leftie education Establishment ( oops, sorry!) sending them to impartial universities, where they can learn to think the right way.
WTF does this cunt think? That there are enough trackie wearing red bull drinking, dope smoking morons, who walk around with their trousers around their arses in this country to total 17 million and force a leave vote!? CUNT.
He said – and I am quoting from the Telegraph here – "correlation" between levels of "education generally" and a "propensity" to vote Brexit.
Sanctimonious entitled posh boy still missing the point. Some of us also went to private schools, and some of us who are not total dumb asses and living on council estates also wanted out of the Brussels controllium. Some of us went to universities and still wanted out of the social communist experiment.
Jo Johnson I suggest you shut the fuck up you cunt and get your facts right.
Nominated by: Kath Gillon