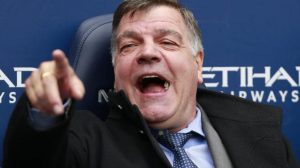 Amazed that nobody has cunted that fat, ugly, useless cunt Sam Allardyce.
Seeing that neanderthal grinning like a Cheshire cat on the front pages made me want to refund my dinner. "Hark", I hear you say, "thou shalt have respect for the new England manager". Well I don't and here's why.
You'd be forgiven for thinking that managing the national football team would require certain basic qualifications. Things like having been a success at the highest club level by actually winning things like league titles and cups. Has Allardyce achieved that? No. Have any of the teams he's 'managed' had consistent qualifying success in European competitions? No. Has he managed any of the recognised big clubs across Europe? No. Has he had a strong track record of managing and coaching any of football's best players? No.
So what exactly are his qualifications then? On the face of it, he doesn't have any. So the fact he was offered the position in the first place beggars belief, but the fact he accepted it and didn't say, "No, I'm completely unqualified, I have neither a winning track record nor mentality and my teams are generally just a bunch of thugs who kick, elbow and foul their way through games" makes him a weapons grade cunt. Absolutely cannot wait for this gargantuan prick to get fired.
Nominated by: Immitation Yank