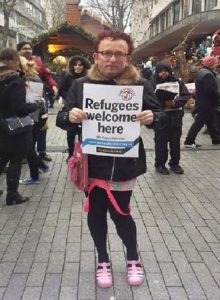 What is it with Brighton? It must be something that comes oit the taps. Let yours truly put in a word orf explanation.
Have a mate does a spot orf farming doine that way and orn occasion have meself driven doine there. In me day the place was genteel shabby with a large population orf old pooftahs, closet dykes and rancid theatricals. Over time it has convinced itself it is achingly trendy and edgy me dears. What better place then for the local faux intellectual community to construct a brave new world beyond PC orf No Platforming, Safe Spaces and now Gender Fluidity.
In short no longer is it enough to be just Poof, Dyke or Tranny but one must celebrate every quirk and underwear stain in between. Many Educational Gauleiters are strutting their tight arsed and very well paid stuff in the class room and earlier for Christ sake. Toddlers are expected to define their gender preferences (oh yes they can be 20% male 20% female and 60% none orf the above if the little darlings feel so inclined) and have gender awareness coaching to stop them falling foul orf gender stereotyping before they get their first colouring book. Makes playing mothers and fathers a very dodgy business.
Nominated by: Sir Limply Stoke