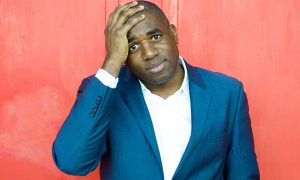 The Rt Hon David Lammy wants parliament to vote to over turn the referendum result. Born in London of Guyanese parents I suspect David doesn't feel British the same way I do. Probably bears some resentment towards Britain dues to the Empire and sums up in one person the issues with allowing people with no real national heritage or loyalty to be elected. Now I realise this will be considered very racist but I wouldn't care if he was white.
I find it incredibly insulting that this man expresses gratitude to the British people by trying to deny them their wish to exit the EU.
Not only are you a cunt David Lammy but you are an ungrateful treacherous cunt. If London hadn't been flooded with immigrants many of whom like David have no loyalty to the UK the constituents of Tottenham would surely be rising up and demanding this man is removed from parliament.
Brexit is just the start, there are a lot more wrongs to be righted, people need to take a good look at who they are voting for. You can be black and British but to be so you have to have some heritage and history in this nation.
Nominated by: Sixdog Vomit