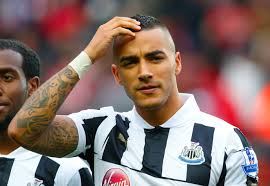 Danny Simpson needs a definite cunting.
He gives his now ex-girlfriend, and is surprised when he ends up in court over it. He managed to dodge prison, being given 300 hours community service in a charity shop in Eccles instead. You'd think he'd be grateful at being shown such leniency. No. He went to court to get it stopped with 155 hours left, because the media had found out where he was working and were bothering him. Turns out the media had found where he was working, because the overpaid halfwit had been parking his completely unobtrusive LAMBORGHINI CUNTO around the from the shop.
Fortunately for Simpson, he got one of the many limp wristed, loony left, soft ass judges, who don't actually know what their job is. The judge granted his request to have the community service stopped, much to the disgust of his ex-girlfriend and her family, and instead gave him a curfew of 7pm to 6am, rather than the fine he wanted.
You'd think he'd be grateful at being shown such leniency. No. Simpson went back to court to get the curfew lifted, because he wanted to go out on the piss with his Leicester City team mates, claiming it was a work commitment. Surprisingly, the judge he got today seems to have had some sense. He threw out the request for a fine, saying that it would be meaningless to a multi-millionaire. So he threw out the curfew, and ordered Simpson to wear a tag, complete the 155 hours of community. Apparently, the judge also questioned the wisdom of driving to his community service in his Lamborghini Cunto, and asked why he couldn't take a cab.
I would imagine that Simpson is a pretty unhappy bunny. His arrogance in believing that people like him should be allowed to get away with committing crimes, has brought him firmly right back to where he was when he was first sentenced. Well let's face it, footballers don't get paid for their intelligence. He should be grateful though, he did at least avoid prison.
Nominated by: Quick Draw McGraw