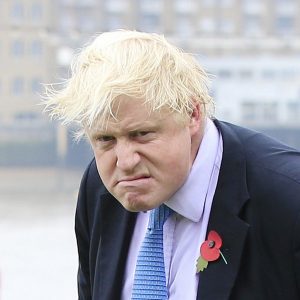 A lifetime orn the turf has gifted yours truly with a discerning conk for a dodgy nag, indeed have administered the old go faster juice on many an occasion requiring a fine judgement to produce a turn of speed withoit old dobbin droppin doine dead (before the finish). In short know a ringer when I see one. The cunt Johnson is a dodgy gee and every inch a ringer promoted by his nouveaux riche cronies to defraud the British punter. In short he is not what he pretends.
Plain speaking Boris standing up for Britain? Bolloxs. Huff and puff and stunt and cunt. Nobody can make oit what the cunt is orn aboit and this is supposed to be a master Oxbridge debater. An old Bullingdon mate orf arch europhile Cameron and the cunt Clegg, he is deliberately throwing it. The Euro Virus lies deep within his bones, caught and nurtured at that Euro indoctrination camp, The European College in Bruges. Not much is made orf it but that is where de Pfeffel was educated (and Clegg and the ugly little bald cunt Kinnock and many orf the Gauleiters orf the EU).
This is the European College Mission Statement:
"Educated side by side, untroubled from infancy by divisive prejudices, acquainted with all that is great and good in the different cultures, it will be borne in upon them as they mature that they belong together. Without ceasing to look to their own lands with love and pride, they will become in mind Europeans, schooled and ready to complete and consolidate the work of their fathers before them, to bring into being a united and thriving Europe."
Sieg Heil.
Nominated by: Sir Limply Stoke