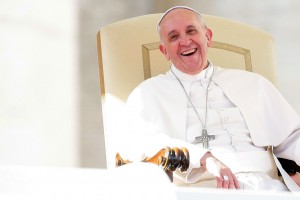 That shit for brains Pope said 4 million migrants isn't enough. We "need 450,000 more" The reason is because migrants pay your pensions(don't ask it's a stupid liberal mong answer) and..
and because the holocaust happened! What a fucking load of shite!
We need them because Jesus says so – but don't convert them they are fine as they are as wife beating child marrying bellends!
Nominated by: Titslapper

The Pope lives in the Vatican City.
The same Vatican city that has the fucking massive walls around it.
Those same fucking massive walls that were built to keep Muslim shitbags out.
If the gobshite dago cunt wants some extra migrants, he is more than welcome to keep all of them. And when I say keep all of them, I mean keep all of them locked in.
Preferably giving Catholic priests, Bishops and Cardinals a taste of their own rogering…
(Sorry. Meant medicine!)
Nominated by : Odin's Balls