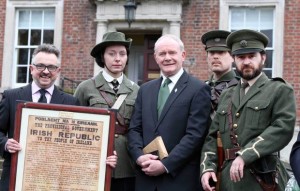 Can I nominate all those cunts celebrating the Easter Uprising in Ireland at the moment? Most of them fucked off out of that shithole as soon as they could, only to spend the rest of their lives droning on about how fucking wonderful Ireland is.
The boring, racist, drunken cunts.
Nominated by: Guardian Hater
It's twenty years this year since those bogtrotting, thick as pigshit, Fenian cunts bombed the shit out of my hometown of Manchester… So they can stick their Easter Uprising up their Fiddle O' Diddle arses, to be sure to be sure!
Nominated by: Norman
Easter 1916 was on Sunday April 23rd and the Rising actually began on Monday the 24th.
These twats don't even know their own history.
Nominated by: Cunt's Mate Cunt