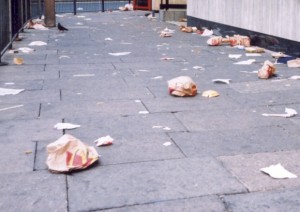 Exactly where the fuck were you dragged up?
Just sat here looking out the window at a fucking bunch of off white bastards parked outside the kitchen window with their five children. They just fucked off and now there is a half dozen piles of assorted shit strewn in the road – chocolate & ice cream wrappers, bits of paper, general shite.
What the fuck is with these people? My daughter taught my grandchildren to pick up their litter. They are taught to give it to me rather than throw it in the street. Why do these cunts come to our country because it's better than the third world shit hole they came from and then try and convert our country into the dump they tried so hard to get away from?
And this shit will never be swept up because the cunt Osbourne keeps cutting services and you can't sweep up past the illegally parked cars they don't bother to nick!!!
If a four year can understand these standards, why the fuck can't these cunts???
And the EU wants us to let more of these fuckers in. FFS!
Vote to leave!!!!!
Nominated by: Mrs D