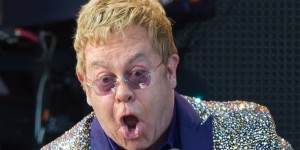 Can we cunt that fucking old shit stabber Elton John (again) please?
If for no other reason than his latest crap song that's doing the rounds at the moment namely 'Blue Wonderful'. It must have taken the old cunt all of 2 minutes to write this shit but it took me considerably less to dislike it.
Hasn't this cunt made enough money from singing shite not to be able to buy his own private island somewhere and take his bum chum with him? May I suggest the Sea Of Japan where that other massive cunt Dim Mong Ug can use it for target practice for his new toys.
Nominated by: Captain Cunteye