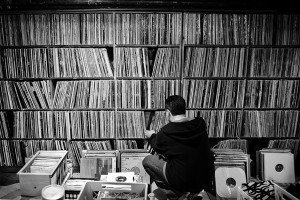 Who cares if your extruded poly-vinyl mono 7″ sounds 'warmer' with a richer/bass' than a dirty digital CD.
There has been a resurgence of wankers , mostly apple fan boys who now collect vinyl because it is 'cool', they collect vinyl like fucking Superman comics, the self important cunts that they are.
Who gives a shit if you have a mis-pressed 7″ at 78rpm instead of 45rpm with the labels on the wrong sides that is worth £50,000 because only 100 copies left the press before it was corrected.
The shit is only worth what some other sucker will pay for it.
It should be, always has been and is about the music, not collecting stuff because it's cool to be retro. or act all superior because your vinyl is not thrown through a high pass filter when compressed to mp3 and thus will always sound superior on a decent system as opposed to fucking ipods and fucking phone mp3 players with £3 headphones!
Nominated by: Boaby