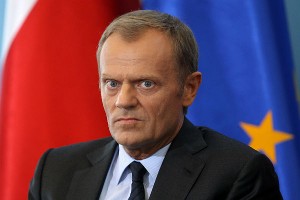 European Council President Donald Tusk (I think he's an ex schoolmate of Cameron) is a CUNT.
He's now saying that Russias's bombing of ISIS and the other Syrian terrorist/"freedom fighters" is bumping up the migrant numbers to Europe. He says fuck all about Turkey (that massive cunt Erdogan) giving travel vouchers to Syrians, Iraquis and assorted Africans so they can pay the people smugglers to cross the Med.
He says nothing about the US sponsoring/funding ISIS 'cos he's a lying, bought and paid for CUNT.
You just have to look at him – he's got CUNT written all over his face; I don't know how he got elected, or it may be European Council members just buy or blackmail their way in like our own House of Lords, another bunch of CUNTS.
Putin is not a nice man, far from it – I wouldn't want to upset him (he does need a serious cunting some time soon though), but he does seem to be making a contribution to stabilising Syria (not through altruism, he's probably worried about his naval base in Latakia), and anyway he can't be causing the Syrian exodus because I've seen a few bleeding heart liberals say/tweet/post after the Paris massacres that the refugees have come to Europe to get away from perpetrators, I have to assume they mean ISIS since no-ones blamed Russia for the attacks – yet.
Why does every country pick a cunt to lead them?
Going back to me whisky.
Nominated by: Frottom