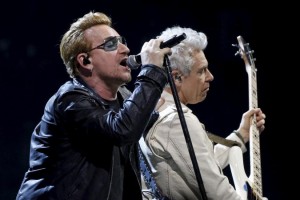 Going for a record 9th cunting of Bono…
At U2's gig in Paris, the sanctimonious, grief-jacking paddy cunts naturally introduced Eagles of Death Metal to play on stage with them.
Referring to the massacre at Eagles of Death Metal's last Paris gig, Bono said: "We must also think of the terrorists' families … I know it is hard right now." He said the attackers' families had also been robbed of their loved ones, by "an ideology that is a perversion of the beautiful religion of Islam". Yeah, that's right, you total fucking cunt, let's not forget the poor, suffering terrorists. Any any cunt who describes Islam as "beautiful" is not only wholly ignorant of the Koran, but also deserves the full Mussolini treatment immediately.
I think this breathtaking comment far exceeds any previous episodes of cuntitude from Bono and I recommend this cunting to fellow cunters.
Nominated by: Fred West