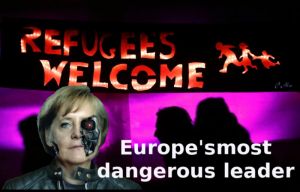 Angela Merkel desperately needs a New Year cunting. Over the New Year, more than a hundred women have been sexually assaulted and robbed in cities such as Cologne and Stuttgart. The offenders have been described as males of Arab and North African appearance. In others, adherents of the "Religion of Peace". Yes, once again, allegedly peaceful muslims have been busy showing the world that, far from being peaceful, they are actually devolved, stone age, violent, uncivilised, sub-human scum. A councillor in Cologne has even declared the city centre to be a "no-go" zone for women and tourists.
How is it, that in the 21st Century, parts of cities in a supposedly modern country like Germany can be described as no-go zones, because muslim "men" are committing heinous crimes against women? How has this happened? Because over the past 12 months, that arrogant, fat slag of a Chancellor, Merkel has allowed more than one MILLION "refugees" into Germany. And that's not the end of it, because she's planning on allowing even more in this year.
And of course, instead of addressing the concerns of the German people about this ridiculously enormous and sudden rise in the German population, in true left wing fashion, she brands anyone who disagrees with her or asks uncomfortable questions, as bigots, islamophobes, fascists, Nazis, etc. With the collusion of the German media, she openly insults the supporters and leaders of groups like PEGIDA, instead of acknowledging that they have some genuine and valid concerns.
Merkel and her followers are too arrogant to even acknowledge the fact that THEY are responsible for the rise in popularity of these allegedly "far" right groups. Had they not acted in such a contemptuous manner toward their own people by allowing such a massive horde of mostly muslim interlopers, these groups would not be as popular as they are. What did she think would happen? That ordinary German people, those who would actually have to live with newcomers, would simply welcome them with open arms. The fact that these groups are growing in popularity by the day, should be a sign to Merkel that she has gone WAY to far. But she's too arrogant to see that sign.
One of the worst things about Merkel, is her arrogance. She openly invited all of these so called refugees to Germany, without once considering how they would get there. Consequently, there has been outright chaos in neighbouring countries such as Austria, Hungary and Serbia, because that horde has to travel through those countries to reach Germany. Merkel doesn't give a fuck though. It's as if she thinks she OWNS those countries. The big problem is, none of those countries gave permission for the tens of thousands of alleged refugees to enter their countries. And Merkel, and her EU puppets, have the nerve to criticise those countries for erecting long, high fences, and reintroducing border controls.
And for the past few months, the cheeky fat slag has been trying to bully other EU countries in taking their "fair share" of these parasites. What is it about lefties that makes them behave in such a treacherous way toward their own people? Why do they hate their own countries so much? Why do they think they have the right to change the ethnic and cultural make up of their countries by bringing in millions of foreigners, without having the decency to ask their countrymen for their permission? As far as I'm concerned, Merkel is the anti-Christ. She needs to be taken out.
Nominated by: Quick Draw McGraw