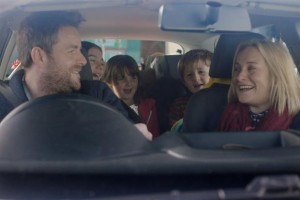 Speaking of Christmas adverts, that fucking McDonalds advert. Jesus Christ! What a family of irritating cunts.
"Dad, why are you so grumpy?!" squeals one of little shits in the back of the car. If that was me I would pull the car over, grip the wheel tighter than my Mrs' arsehole and calmly explain " I'm grumpy because I've created the worst domestic unit known to man. You shits and your mother are such a disappointment to me that I've been spending most of my evenings indulging in smack and having sex with the local street walkers. I hate every fiber of your beings".
I would then systematically shoot each one of them in the face. Leaving that fucking little fuck pig-boy till last so I could see the despair that the child locks had put onto his chubby shitty face, then delicately kiss him on the forehead and whisper in his ear "Like Wizard do you, you camp cunt?", then put the twats brains over the back window.
Well, that would be what I would do anyway. Merry Christmas.
Nominated by: Cunt O'MaCunto