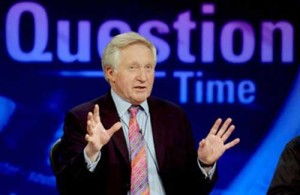 Where the fuck is an ISIS homicide bomber when you need one?
This week's Question Time panel is:
Jacob Rees-Mogg (Conservative, Cunt)
Emily Thornberry (Labour, Cunt, looks down on working class folk who hang flags with the St George Cross from their house and drive a white van, double cunt)
Hannah Bardell (Scottish Nazi Party, fucking ocean going cunt)
Mark Reckless (UKIP,……yeah, cunt)
Piers Morgan ( does it really need to be said? )
OK, CUUUUUUUUUUUUUUUUUNNNNNNNNNNNTTTTTTT!!!!!!!
Nominated by: Quick Draw McGraw