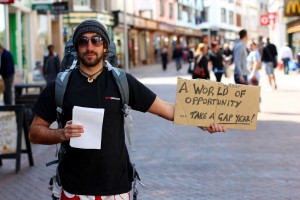 Its the gap yah cunts that piss me off.
Mummeh and Daddeh pay a small fortune for their irritating and clueless offspring to fuck off on an extended holiday. Said student arseholes then like to regale anyone who will listen about the 'special' time they had and the locals they 'bonded' with while living in a traditional mud and dung hut.
Right, lets get a couple of things straight.
First, the locals fucking hate you, you middle class irritating fucktard.
The Masai aren't there to entertain you with their 'traditional' songs and pogo sessions.
It has been documented that what they are actually singing is "Give us your money and fuck off whitey".
The animals are all largely fucking dangerous, this is why they are called 'wild animals'. Only a complete fucking retard would actually want to go anywhere within clawing, biting or stomping distance of them. This is why the locals carry guns.
Third up is the exotic diseases that you're going to come home with.
Shagging the local war chief's daughter isn't a mark of respect, she has AIDS. They want you to die.
You will also be bitten by at least one of the following: Tsetse fly (sleeping sickness, but to be honest nobody will notice for months because students normally sleep for 16 hours of the day).
Mosquito (malaria. Again nobody will really notice because the jaundiced look goes with all the chronic you spend Mummeh and Daddeh's cash on).
Other parasitic infections (no, not other students) of the type that will see things bursting out of your skin.
Frankly, anyone who pays money to go anywhere near a shithole like Africa deserves all of the above….and a dose of Ebola as a warning to others.
Cunts.
Nominated by: Odin's Balls