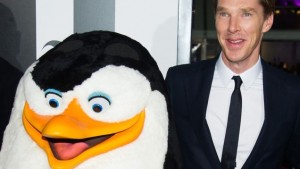 Benedict Cumberbatch – daft trollops wanting to commit suicide because he's got married, for fucks sake, this man is just a complete cunt of the highest order, and why so fucking posh?
For what I can work out using the internet, and old VHS tapes, his sister is married to Rodney Trotter, his mum is a bossy old tart who drives around in futuristic cars from the 1970s, and his dad is a bloke who owns a printing firm and a limousine company hiring out old Ford Granada's.
I also found out that his dad's been in nick, and also buys old dodgy mobile phones off someone called Arthur Dailey, Arthur bloody Dailey, the biggest used car salesman in north London.
Nominated by: Ram it home Ginger Rogers

Yet another rich born left wing twat, who thinks he has a god given right to lecture people on the need to bring an unlimited number of 'refugees' to the UK. Which is what he did at the end of his Hamlet gigs. If I'd been at one of those performances, I'd have got up and walked out as soon as the Hamlet bit was over.
It's all very well shouting "FUCK THE GOVERNMENT" (very classy by the way), and demanding that more foreign parasites be allowed to permanently settle in the UK. But people like Bendydick were born into privilege. They've never lived in the areas that these so called refugees get sent to. They've never seen the disruption, or the tensions it's caused with the indigenous people, because nobody asked if they WANTED a bunch of, mostly, aggressive and hostile strangers to bring their alien culture to a long established community.
The only experience cunts like Benzadrine Cuntflaps have of immigrants, come from the fucking au pairs, maids and cleaners they hire on the cheap. The worst of them, are those like Geldof and Cooper-Balls. They both offered to put up a Syrian 'refugee' family in their own homes. Now that the fuckers are over here, Geldof and Cooper-Balls have both been strangely silent on that issue. Cooper-Balls was interviewed over the phone by Nick Ferrari on his radio show a few weeks back. All was going well until Nick enquired about her promise to house a refugee family. The line suddenly went dead. Refugees welcome? Only until she has to keep a promise.
Nominated by: Quick Draw McGraw
Cumberbatch was really quite good as Hamlet. Shame's he's such a cunt in real life…
Have a refugee for Christmas, Bennie. It's cheaper than a turkey!
Nominated by: Dioclese